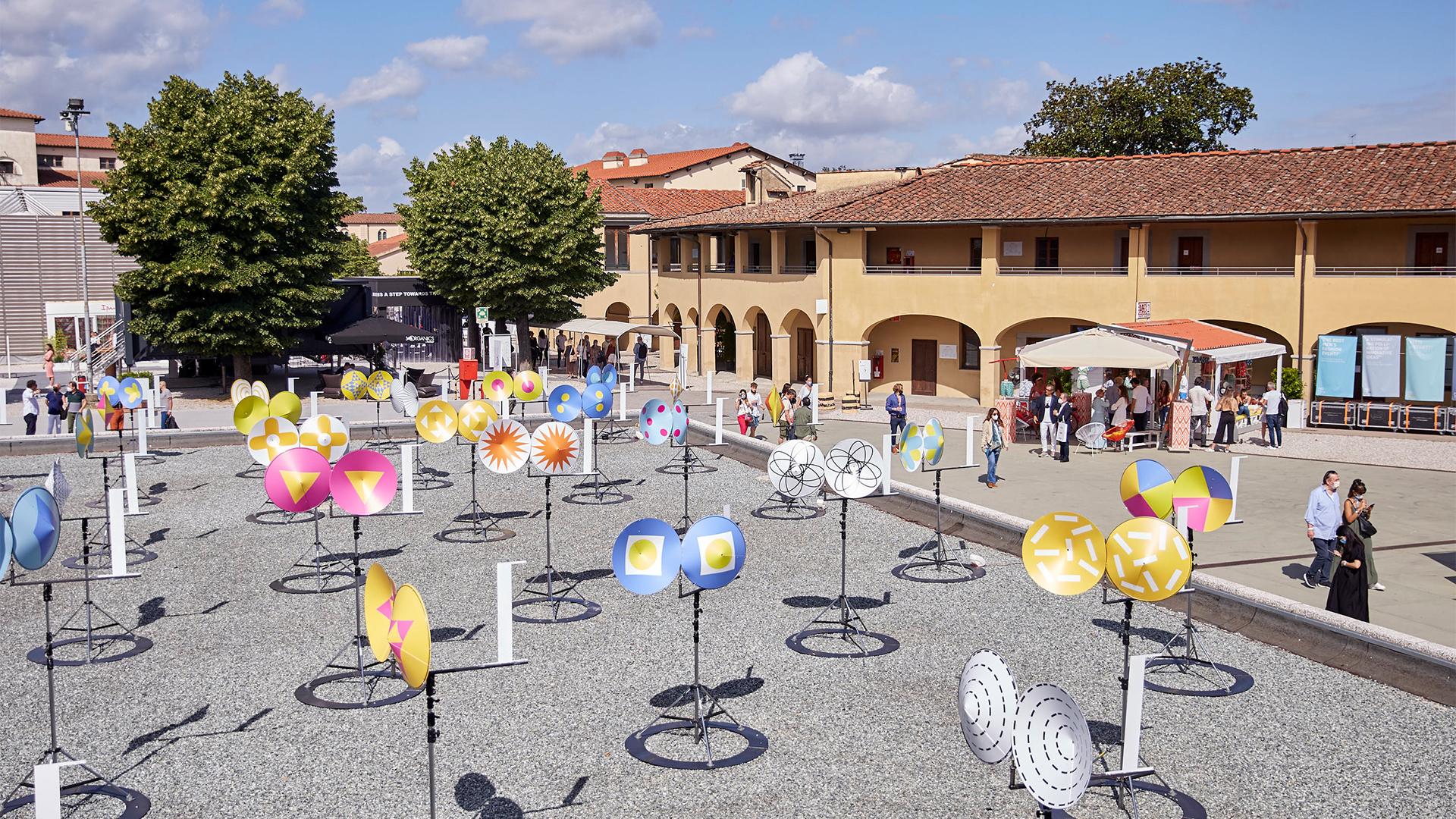 Pitti 100
---
2021
Pitti immagine

---
Identity
The brand/logotype designed for the 100th edition of Pitti Uomo was conceived as a device capable of generating an articulated system of signs that are always different but strongly recognisable and perceptively univocal.
The generating model consists of three elements which, as in an assembly box, allow up to one hundred different compositional alternatives to be assembled.
The fixed and recurring element is the PITTI lettering, on two lines, in which the final letter 'I', with the elimination of a small serif, becomes the number '1' of 100, guaranteeing the sign's immediate recognisability throughout the visual identity programme.

The zeros constitute the dynamic and interchangeable element of the system, where in the space of the two circular shapes, slightly overlapping in an embrace, heterogeneous configurations are animated but uniformed by the same intention of geometric reduction.
The two zeros, interpreted graphically in a hundred different ways, become icons to be used freely as expressive languages capable of moving at ease in all the different modes of application and on all supports.

The three different declinations, Uomo, Bimbo, Filati, allow the consistent use of the brand in all its communication variables.

In the choice of colours there is a prevalence of warm, sunny and joyful tones. A dynamic system, fluid and never repetitive but at the same time able to maintain its identity in change.

More than a brand, it is a system of combinatory possibilities, a look that is available and adaptable to the mutations that the historical era in which we are living invites us to pursue.

Dondina Associati
Via Ausonio 18, 20123
Milan – Italy
P.IVA 08391510156

Dondina Associati
Via Ausonio 18, 20123
Milan – Italy
P.IVA 08391510156